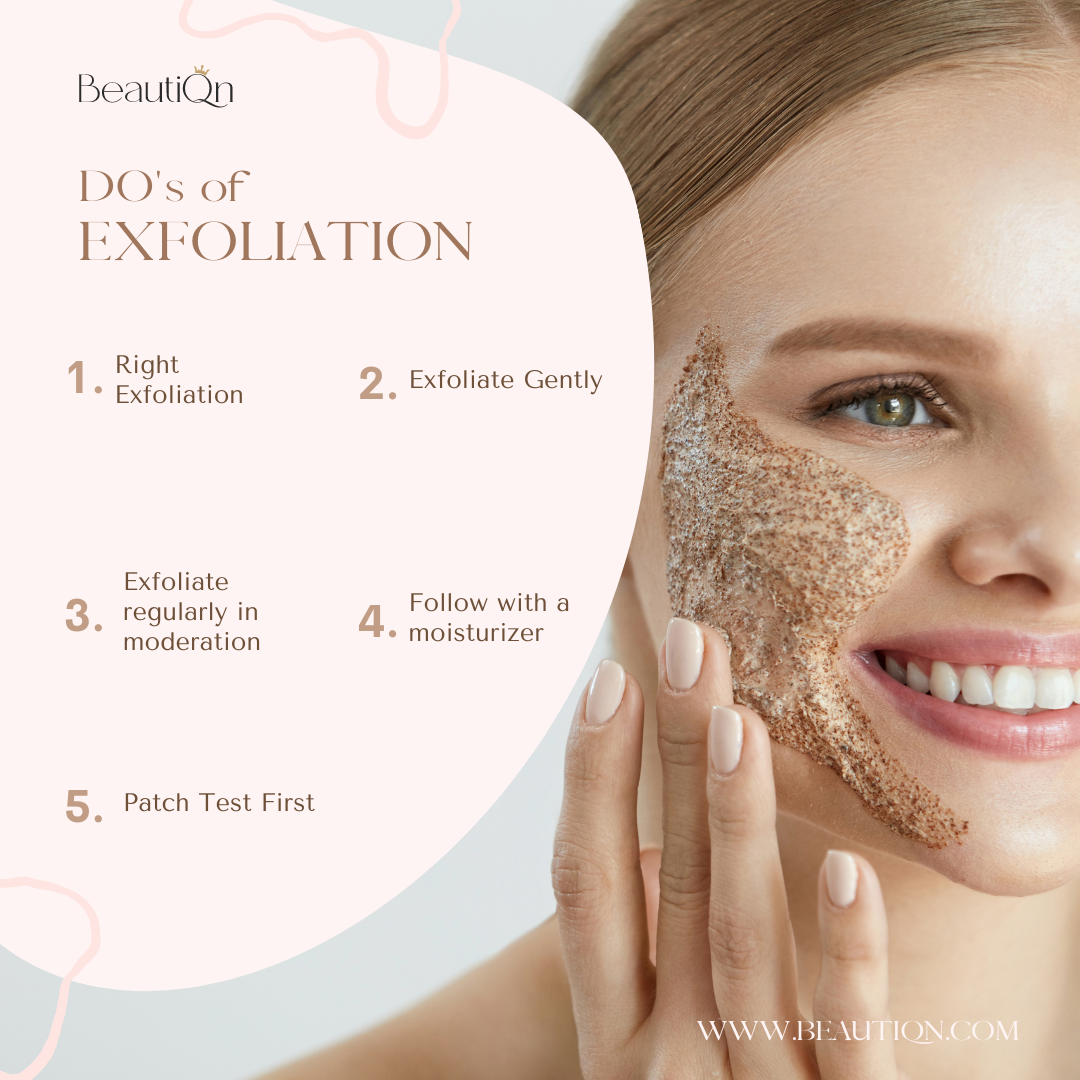 The Do's and Don'ts of Exfoliation: A Guide to Healthy and Glowing Skin
Exfoliation is an essential step in any skincare routine that helps to remove dead skin cells, unclog pores, and promote a smoother complexion. However, improper exfoliation techniques can lead to irritation, sensitivity, and damage to the skin. In this blog post, we will explore the do's and don'ts of exfoliation to ensure you achieve healthy and glowing skin while avoiding common pitfalls.
The Do's of Exfoliation:
Do choose the right exfoliant for your skin type: Different skin types require different exfoliants. Opt for chemical exfoliants like AHAs (alpha hydroxy acids) or BHAs (beta hydroxy acids) for sensitive or acne-prone skin, while physical exfoliants like scrubs or brushes can work well for normal or oily skin types.

Do exfoliate gently: Avoid excessive scrubbing or harsh exfoliation techniques, as they can cause irritation and damage to the skin. Use gentle, circular motions with light pressure to exfoliate effectively without harming the skin's barrier.

Do exfoliate regularly but in moderation: Find a balance between regular exfoliation to maintain skin clarity and overdoing it, which can lead to irritation and sensitivity. Exfoliating 1-3 times per week is generally sufficient for most skin types.

Do follow with moisturizer: After exfoliating, it's crucial to replenish the skin's moisture barrier. Apply a hydrating moisturizer to nourish and protect the skin, locking in moisture and preventing dryness or tightness.

Do patch test new exfoliants: If trying a new exfoliant or product, always perform a patch test on a small area of your skin to check for any adverse reactions or allergies before applying it to your entire face.
The Don'ts of Exfoliation:
Don't exfoliate if you have active breakouts or sunburn: Exfoliating over active breakouts can worsen inflammation and delay healing. Similarly, avoid exfoliating sunburned skin, as it is already compromised and needs time to recover.

Don't over-exfoliate: Excessive exfoliation can disrupt the skin's natural barrier, leading to dryness, redness, and increased sensitivity. Stick to the recommended frequency and listen to your skin's needs.

Don't use harsh or abrasive exfoliants: Avoid exfoliants with large or jagged particles that can cause micro-tears in the skin. Opt for finely ground or gentle exfoliating ingredients to minimize the risk of irritation.

Don't neglect sun protection: Exfoliating can make your skin more vulnerable to sun damage. Always apply a broad-spectrum sunscreen with SPF 30 or higher after exfoliating to protect your skin from harmful UV rays.

Don't share exfoliating tools or products: Sharing exfoliating tools or products can transfer bacteria and lead to infections or breakouts. Keep your exfoliation routine personal and avoid sharing items with others.
Exfoliation is a powerful skincare tool when done correctly. By following the do's and don'ts of exfoliation, you can achieve a smoother, brighter complexion while maintaining the health and integrity of your skin. Remember to choose the right exfoliant for your skin type, exfoliate gently and in moderation, and always prioritize moisturization and sun protection. With proper exfoliation practices, you'll unveil a radiant and revitalized complexion that's ready to glow.