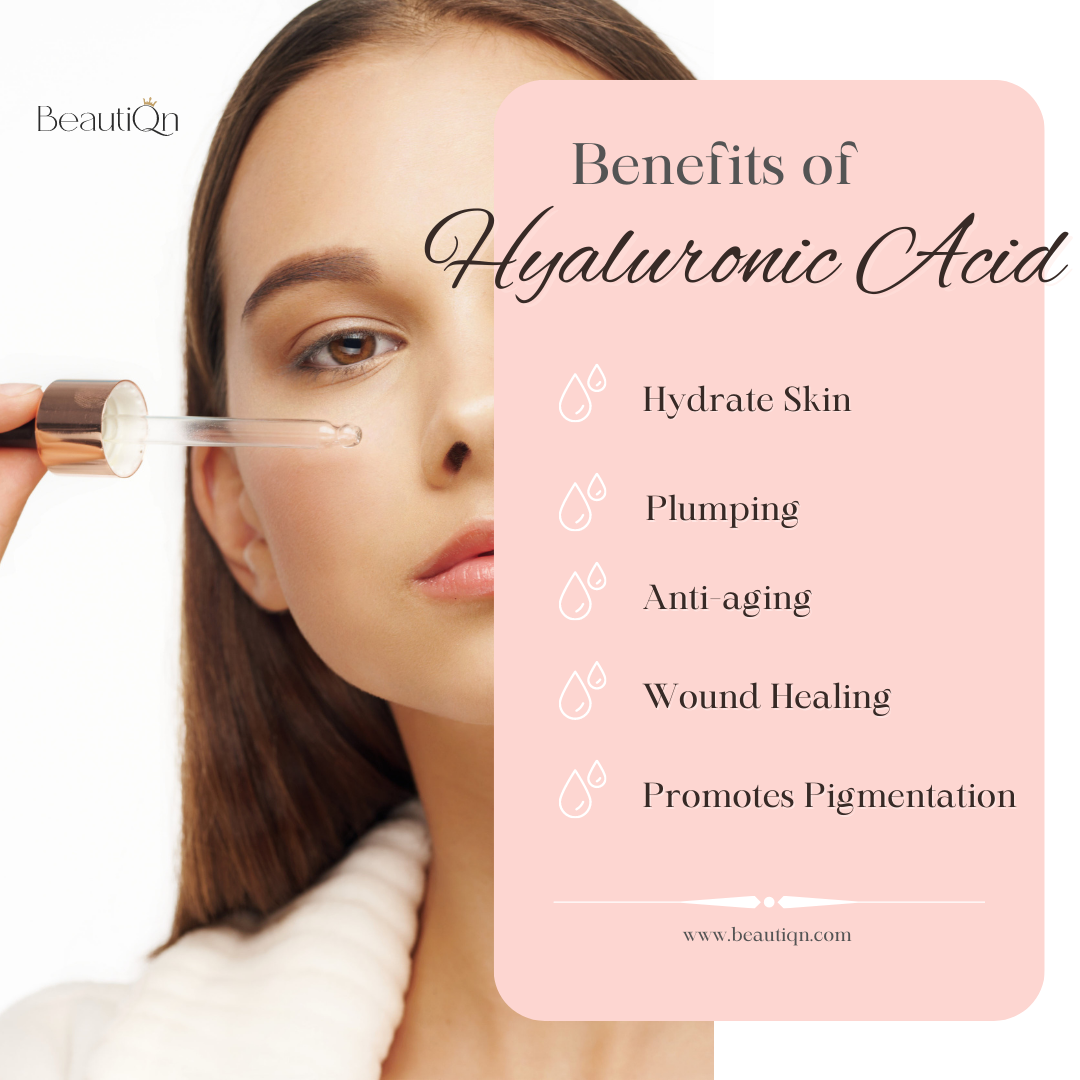 The Marvels of Hyaluronic Acid: Unveiling Its Skincare Benefits
In the world of skincare, there's one ingredient that has taken the beauty industry by storm: hyaluronic acid. Renowned for its powerful hydrating properties and numerous skincare benefits, hyaluronic acid has become a must-have in skincare routines worldwide. In this article, we will explore the wonders of hyaluronic acid and its remarkable benefits for achieving healthy, plump, and youthful-looking skin.
Intense Hydration: Hyaluronic acid is a natural humectant, capable of holding up to 1,000 times its weight in water. This remarkable ability makes it a superior moisturizing agent that helps to replenish and retain moisture within the skin. By providing intense hydration, hyaluronic acid effectively revitalizes dry and dehydrated skin, leaving it soft, supple, and radiant.

Plumping and Smoothing: One of the key benefits of hyaluronic acid is its ability to plump and smooth the skin. As it attracts and retains moisture, it fills in fine lines, wrinkles, and creases, giving the skin a more youthful and rejuvenated appearance. With regular use, hyaluronic acid can help diminish the signs of aging and promote a smoother complexion.

Enhanced Skin Elasticity: Loss of skin elasticity is a common concern as we age. Hyaluronic acid helps to improve skin elasticity by promoting collagen synthesis. Collagen is a vital protein that provides structure and firmness to the skin. By stimulating collagen production, hyaluronic acid helps to improve skin texture, minimize sagging, and promote a more youthful bounce.

Soothing and Calming: For those with sensitive or irritated skin, hyaluronic acid can be a soothing savior. Its gentle and non-irritating nature makes it suitable for all skin types, even the most sensitive. Hyaluronic acid works to calm and hydrate the skin, reducing redness, inflammation, and sensitivity. It acts as a protective barrier, shielding the skin from environmental aggressors that can cause irritation.

Enhanced Wound Healing: Hyaluronic acid's wound healing properties make it a valuable asset in skincare. It aids in the regeneration of damaged skin cells and accelerates the healing process. Whether it's a minor cut, sunburn, or acne breakout, hyaluronic acid can assist in repairing and rejuvenating the skin, leaving behind a healthier and more resilient complexion.

Versatility and Compatibility: Hyaluronic acid is a versatile ingredient that can be found in various skincare products, including serums, moisturizers, masks, and even makeup. Its compatibility with other skincare ingredients makes it easy to incorporate into any skincare routine. Whether used alone or in combination with other active ingredients, hyaluronic acid complements and enhances the efficacy of other skincare products.
Hyaluronic acid is a true skincare powerhouse, offering a multitude of benefits for achieving healthy, plump, and radiant skin. From its exceptional hydrating properties to its ability to smooth, soothe, and rejuvenate, hyaluronic acid has earned its place as a staple in skincare routines worldwide. So, whether you're looking to combat dryness, minimize signs of aging, or simply enhance your skin's overall health, hyaluronic acid is here to deliver remarkable results and unlock the secret to a more beautiful you.